Where Are I-PACE Charging Stations?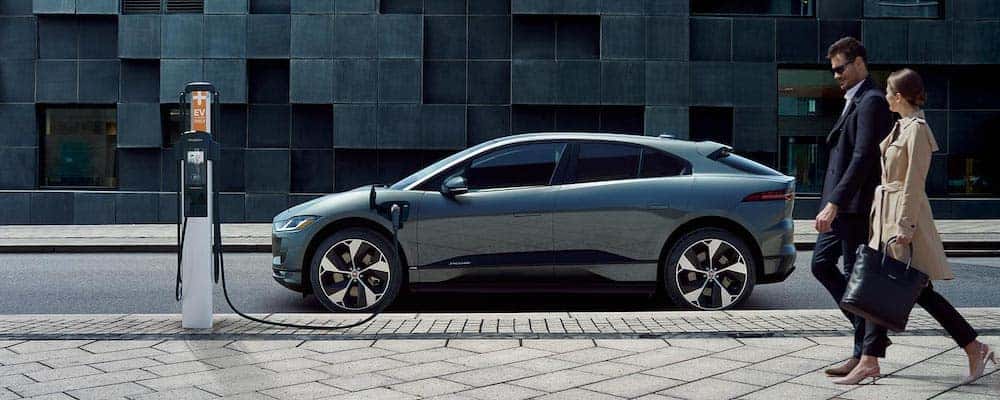 If you own or are considering owning an electric vehicle like the new Jaguar I-PACE in Beverly Hills, you'll want to be aware of your options for electric car charging stations in the area. Check out our guide to charging stations and contact us at Jaguar Los Angeles if you have any questions!
Electric Car Charging Stations Near Me
You don't have to worry about losing charge on the go around Bel Air, because California is the most EV-friendly state in the U.S. There are hundreds of charging AC and DC fast charging stations in the greater Los Angeles area, and plenty to choose from near Jaguar Los Angeles, whether you are in Burbank, Hollywood, Glendale, Santa Monica, or beyond!
Smartphone Apps for Finding Public Charging: ChargePoint, PlugShare, ChargeHub EV Map, NEXTCHARGE, EVgo
Chain Stores with Electric Vehicle Charging: Walgreens, Whole Foods, Ralph's, Macy's, Ikea, Kohl's, Sears, Walmart.
ChargeHotels.com: When you are planning a long trip, chargehotels.com can help you find hotels with electric vehicle charging stations. Common options include DoubleTree, the Marriott, Embassy Suites, the Hilton, and more.
Other Options: Many parking garages and shopping malls have charging stations (often in the best parking spots).
Charging Networks: There are more and more privately-run charging networks like Blink in California, where parking is free but you pay to charge your vehicle (which will still be cheaper than gas). Tesla even has their own charging network, and with the right adapter you can use most Tesla charging stations.
Jaguar I-PACE Charging
The Jaguar I-PACE has up to 234 miles of range so you won't have to worry about running out of charge when running errands around Los Angeles, but if you are about to head out on a long trip or want to top off your battery charge, you can. Here are some things to know about I-PACE charging on the go:
The common 50 kW DC fast chargers found in public locations can provide 0-80% charge to the I-PACE in 85 minutes.
100 kW DC rapid chargers offer a faster charge rate, delivering 0-80% charge in 45 minutes.
The I-PACE has a universal charging plug which works on all charging ports (except for Tesla charging stations)
The charging cable can be stored in a designated compartment in the floor of the cargo area so it doesn't get damaged or tangled.
Navigation Pro on your Touch Pro® Duo infotainment display allows you to find local charging points mapped out, monitor your vehicle range, and even view 3D maps.
With the InControl® Remote™ app you can monitor vehicle range, charging status, charge rate, and plug state on your smartphone or Apple Watch.
Experience an I-PACE at Jaguar Los Angeles
Learn more about Jaguar I-PACE features and electric car charging costs, then contact us for a test drive and decide if it's right for your Los Angeles needs.
Learn More at Jaguar Los Angeles
The Jaguar I-PACE made waves as the premier all-electric luxury SUV, but what does the 2021 model year have to offer you in Beverly Hills? In this guide, we'll walk you through each Jaguar I-PACE review from the leading experts in the field. Across the board, reviewers were blown away by the style and performance of…

Jaguar is known for providing Beverly Hills drivers with smooth performance and advanced technologies that keep you and your loved ones connected and protected while on the roads. With several models available, it may be difficult to decide which one packs the most punch – or just the right amount. Compare the Jaguar 0-60 mph to…

The 2019 Jaguar I-PACE is an all-new, all-electric SUV for sale right now near Bel Air at Jaguar Los Angeles. In addition to its impressive driving range and Dynamic AWD system, you'll find an abundance of features inside the cabin. Learn more about the critically praised 2019 Jaguar I-PACE at our Los Angeles dealership, then find out what electric…