Can I Use Tesla Stations to Charge My Jaguar I-PACE?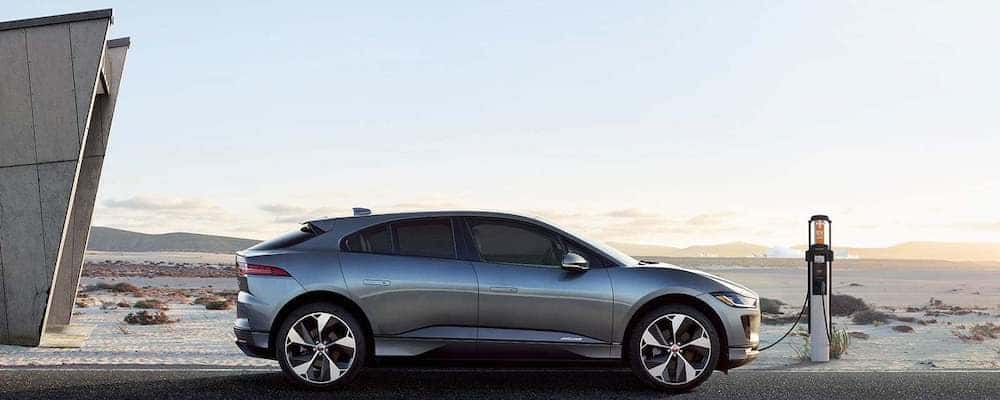 If you own an electric vehicle, you may have already noticed around Beverly Hills and Bel Air that the EV brand Tesla has their own specialty charging stations for use–and yes, with the proper adapter cable, you can charge an electric car like the Jaguar I-PACE at most of these Tesla charging stations. Find out from Jaguar Los Angeles which of these public chargers will charge an I-PACE, and contact us if you have any questions.
Tesla Charging Stations Compatible with the Jaguar I-PACE
There are two types of public charging networks offered specifically to Tesla owners:
Tesla Destination Charging stations: These are compatible to charge other electric vehicles like the I-PACE.
Tesla Supercharging stations: These are the unique red quick charge stations are not compatible to charge other electric vehicle brands.
Things to know about Tesla Destination Charging stations:
They have 100 kW DC fast chargers, and you can find them at places like hotels, AirBnB's, theme parks, restaurants, and more.
Many of these stations provide charging for free because the properties that they are built on want you to have the incentive to patronize their businesses.
At stations where you have to pay, the network may charge rates for idling (aka, having your vehicle plugged in too long after it's fully charged).
There are rumors that Tesla plans to double the number of Tesla charging networks in California by the end of 2019. But If you don't have a Tesla model, don't worry–Charging network apps like ChargePoint allow you to specify the type of electric vehicle you drive so it will only show you charging spots that are compatible with your model. You can also order adapters like the TeslaTap online to fit Tesla Destination Charging stations and even Tesla Wall Connectors.
Jaguar I-PACE Charging Abilities
The more competitively-priced Jaguar I-PACE, in common practice with all other electric vehicles, uses the universal J1772 connector for Level 2 charging. This is supported at every Level 2-type charging station, which includes both home charging and public charging. The Tesla Supercharging stations are considered specialized Level 3 chargers.
Some things to know about I-PACE charging:
The I-PACE comes with a multi-function charging cable and able to charge with a type 2 AC charging up to 7kw (for home charging), and with CCS DC charging at up to 100kw.
Achieve 0-80 percent battery charge in 85-minutes using DC charging (50kW).
Achieve 0-80 percent battery charge in 40-minutes using DC Rapid Chargers (100kW)–including Tesla Destination Chargers.
Explore Electric Vehicle Options in Los Angeles
You can learn more about electric car rivals by comparing the Jaguar I-PACE vs. Tesla Model X, explore the 2019 I-PACE features and interior in more detail at Jaguar Los Angeles. When you are ready to take home a luxurious and advanced electric model, browse our inventory to find a new Jaguar I-PACE for sale near Los Angeles.
More About Jaguar I-PACE Features